LCTU Information
Background
The Liverpool Clinical Trials Unit (LCTU) was established in 1996 by Professor JP Neoptolemos in order to conduct clinical trials from Liverpool and was soundly developed by a generous award from the Royal Liverpool University Hospital Trust.
Core Programme Funding for LCTU came from Cancer Research UK (2006-2010) and was twice renewed so far by Cancer Research UK (2010-2013 and 2013-2018) to bring it in line with other Cancer Research UK CTUs and is one of the divisions with thin the broader LCTU.
The LCTU achieved full UK Clinical Research Collaboration (UKCRC) accreditation in 2007 as part of the Clinical Trials Research Centre (CTRC) and again in 2012 as part of the University of Liverpool Trials Collaborative (LTC) comprising the LCTU and the CTRC.
Using the Core Funding from the NIHR and CRUK the GCLP Central Labs and Biobanks were developed.
The North West Surgical Trials Centre (NWSTC), a collaboration between the Universities of Liverpool and Manchester and hosted by the LCTU, was awarded Core Funding in 2012 by the Royal College of Surgeons of England and CRUK.
Four NHS Trusts in Liverpool and Merseyside provide additional NHS Trust Funded Posts to support the development of trials other than cancer and led to the creation of the NIHR Clinical Trials Division.
The LCTU was awarded membership of the National Cancer Research Institute (NCRI) Clinical Trial Units Group in 2014.
The LCTU currently employs around 80 staff members with around 80 clinical trials active or in development.
Structure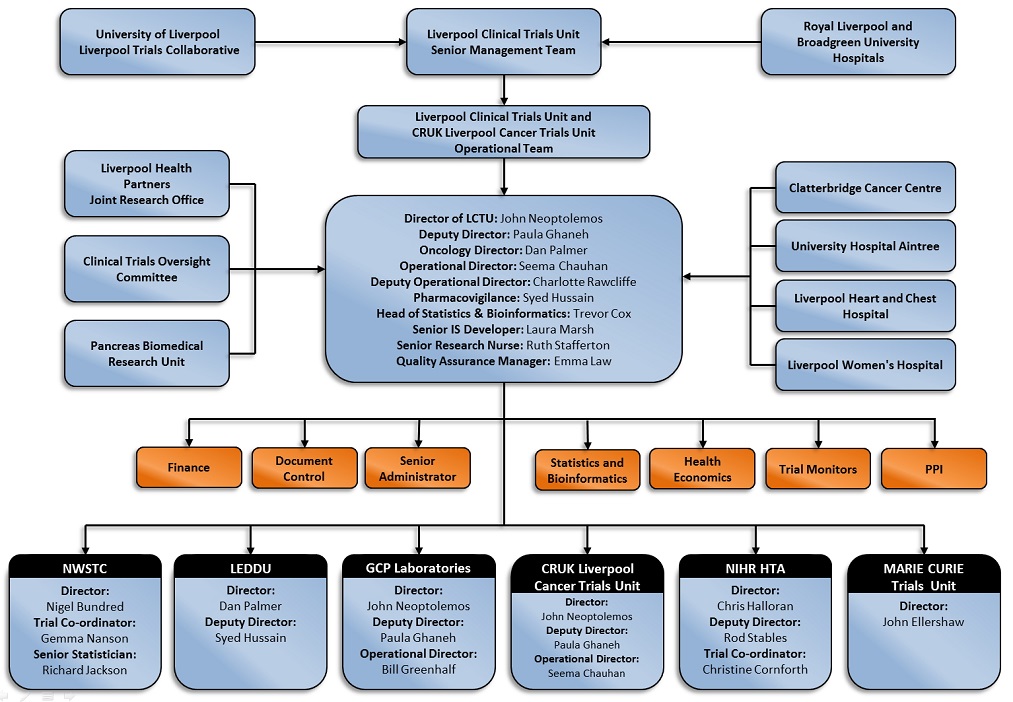 The following structure was adopted in Q4 2012 and is steadily being consolidated.
Cancer Research UK Liverpool Cancer Trials Unit. (Director: John Neoptolemos, Core funded: CRUK and NHS Trusts).
North West Surgical Trials Centre. (Director: Nigel Bundred, Core funded Royal College of Surgeons of England and CRUK).
NIHR Clinical Trials Division (Director: Christopher Halloran, Core funded NIHR and NHS Trusts).
Liverpool Early Drug Development Unit (LEDDU) which is a continuation of the previous Experimental Cancer Medicine Centre (Director: Daniel Palmer, NHS Trusts and NIHR).
Good Clinical Laboratory Practice Central Facility (Director: John Neoptolemos; Operational Director William Greenhalf, NIHR and NHS Trusts).
Marie Curie Palliative Care CTU (Director: John Ellershaw, Marie Currie).
LCTU STRATEGY
Trials
To continue to be the leading CTU for pancreatic cancer in the UK.
To expand the head and neck, hepatobiliary, haematology, urological, ocular melanoma and lung cancer Phase II and III trial portfolio.
To develop new areas including radiotherapy, gynaecological and breast cancer.
To establish successful Phase I/II studies in the above cancers by working closely with and providing oversight for the Liverpool Early Drug Development Unit (LEDDU).
To ensure that translational studies are incorporated, when appropriate, into all trials supported by the LCTU.
To focus on developing, designing and supporting new surgical clinical trials.
To maximise recruitment into surgical trials.
To support, design and develop clinical trials in non-cancer areas including: cardiovascular, gastrointestinal and other clinical specialities for NIHR funding.
To provide health economic evaluation and support where appropriate.
To provide high quality statistical and bioinformatics support for clinical trials and translational studies.
To ensure high levels of patient and public engagement for all LCTU activities.
To continue to build a programme of methodological and statistical research to improve the design and efficiency of clinical trials.
Capacity Development
To support the development and increase the capacity for conducting clinical trials in Liverpool and the North West.
To support the development of R&D Departments of NHS Trusts across Liverpool and Merseyside and integration with the objectives of the Liverpool Health Partners.
To encourage and support the development of clinicians and health care workers in general as independent Principle Investigators.
To develop and train a new cadre of surgical CIs
Management
Engage with and involve patients and the public community.
To ensure that all trials in the portfolio are undertaken to the highest quality standards and meet all regulatory and ICH GCP requirements.
To provide all support necessary for successful, planned and co-operative applications to funding bodies.
To ensure robust review processes prior to trial adoption.
To develop, implement and improve effective trial management systems.
To monitor the clinical trials portfolio to ensure all trials recruit to time and target.
To focus on translational research that will make an immediate clinical impact.
To foster close links with the University, NHS Trusts and regulatory bodies so that national and international studies can be co-ordinated by the LCTU.
To share working practices and streamline and enhance the operations of the LCTU as part of the Liverpool Trial Collaborative, including working streams for SOPs, contracts, sponsorship, auditing and QA.
To improve local collaboration with the Research Design Service.
To ensure the recruitment, retention and promotion of staff by providing training and an environment which encourages progression and development for each individual.
To implement long term workforce planning measures which ensure stability, continuity, efficiency and economic viability.
To oversee a succession timetable for the Deputy Director to succeed the Director of the LCTU and ensure a stable transition period.
Liverpool Clinical Trials Unit Senior Management Team
Professor John Neoptolemos - Director LCTU - Chair
John Graham -Deputy CEO RLBUHT (Mrs Debbie Barnett )
Professor Paula Ghaneh - Deputy Director LCTU
Dr Seema Chauhan - Operational Director LCTU
Miss Charlotte Rawcliffe - Deputy Operational Director LCTU
Professor Dan Palmer - Director LEDDU
Dr Syed Hussain - Pharmacovigilance Lead
Mr Chris Halloran - NIHR CTU Director
Mr Rod Stables - Liverpool Heart and Chest Hospital
Dr Bill Greenhalf - GCPLabs Operational Director
Professor John Ellershaw - Director of Marie Curie
Professor Robert Sutton - Director of Research Development & Innovation RLBUHT
Dr Trevor Cox - Director of Statistics LCTU
Mrs Laura Marsh - Senior IS Developer LCTU
Dr Alan Haycox - Health Economics
Miss Ruth Stafferton - Senior Research Nurse LCTU