Trial Adoption Process
How can we help and support you
The LCTU is a UKCRC accredited trials unit, with expertise in the design, conduct and analysis of high quality multicentre early and late phase clinical trials.
The LCTU works in close collaboration with investigators on all aspects of trial design and management.
| | |
| --- | --- |
| LCTU Divisions/Collaborations | Director |
| Cancer Research UK Liverpool Cancer Trials Unit | Prof. Paula Ghaneh |
| Liverpool Experimental Cancer Medicine Centre (LECMC) | Prof. Dan Palmer |
| North West Surgical Trials Centre (NWSTC) | Prof. Nigel Bundred |
| NIHR/Non Cancer | Prof. John Wilding |
| Collaborate/Governance support:University of Liverpool GCP Laboratories | Prof. William Greenhalf |
Expertise
Grant Applications
Sponsorship
Costings
Protocol Writing
Ethics and Regulatory Submissions
Database development and CRF Design
Contracts
Site Selection and Set-up
Monitoring,/td>
Data Management
Information systems support
Oversight Committee Organisation and report writing
Statistical Analysis and Methodology
Publications, Site Closure and Archiving
Translational sub studies
---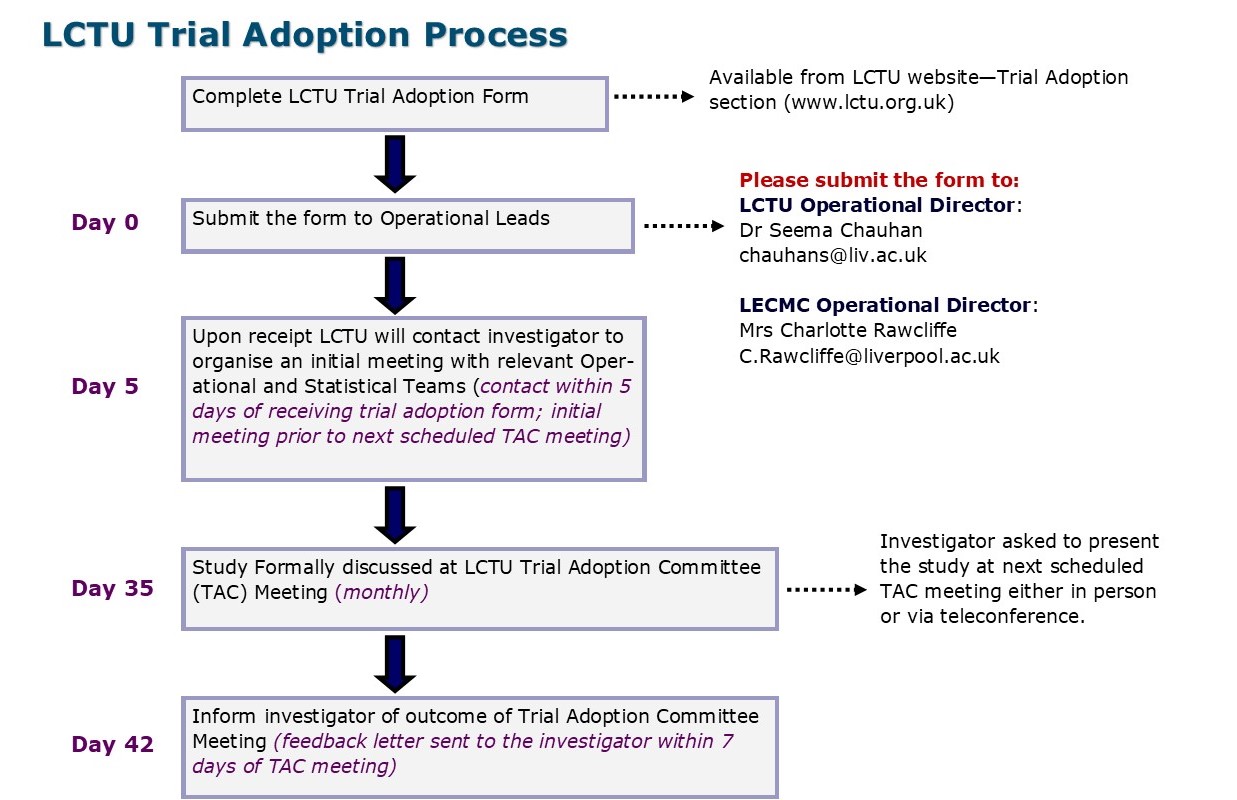 The LCTU needs to know 2-3 months in advance of any forthcoming grant applications that they wish the LCTU to be involved with.
---
Trial Adoption Proforma
Click Here to download the Trial Adoption Form.  Please save the form to a folder on your computer before you complete it, this will allow the information in the form to be saved. 
If you complete the form online, you will not be able to save the information that is entered.
Note that Adobe Reader is required to complete the form.
Download the latest version of Adobe Reader (Opens new window)
Once completed, please save the PDF and return it to the LCTU via one of the following email addresses. You must also include a short CV and a current GCP certificate.
---
Trial Adoption Meeting Dates
Anyone wishing to have a trial adopted by LCTU must attend (or send a representative) the next committee meeting to present and discuss their trial
| | |
| --- | --- |
| Date | Time |
| Monday 14th January 2019 | 14:00 – 15:30 |
| Monday 11th February 2019 | 14:00 – 15:30 |
| Monday 11th March 2019 | 14:00 – 15:30 |
| Monday 8th April 2019 | 15:30 - 17:00 |
| Monday 13th May 2019 | 14:00 – 15:30 |
| Monday 10th June 2019 | 14:00 – 15:30 |
| Monday 8th July 2019 | 14:00 – 15:30 |
| Monday 12th August 2019 | 14:00 – 15:30 |
| Monday 9th September 2019 | 14:00 – 15:30 |
| Monday 14th October 2019 | 14:00 – 15:30 |
| Monday 11th November 2019 | 14:00 – 15:30 |
| Monday 9th December 2019 | 14:00 – 15:30 |
---
Trial Adoption Committee Members
CHAIR: Professor Paula Ghaneh, LCTU Director
Professor Daniel Palmer, LECMC Director
Professor John Wilding, Director NIHR/Non Cancer Division
Professor William Greenhalf, GCP Lab Director
Dr Richard Jackson, Director of Statistics
Miss Eftychia Psarelli, Senior Statistician
Ms Ruth Stafferton, CRUK Senior Research Nurse
Dr Seema Chauhan, LCTU Operational Director
Mrs Charlotte Rawcliffe, LECMC Operational Director
Mrs Stacey Carruthers, LCTU Senior Trials Manager
Mr Tony Coffey, NWSTC Senior Coordinator
Mrs Rebecca Tangney, Lead Pharmacist in Clinical Trials, Aintree University Hospital
Dr Rui Duarte, Health Economist
Mrs Laura Marsh, Senior Information Systems Developer
Mrs Liz Fuller (Lay member), Chair LCTU PPI Committee