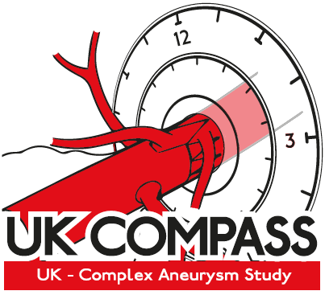 Title
A Prospective Cohort Comparison Study of Open and Endovascular Techniques for Juxtarenal and Suprarenal Abdominal Aortic Aneurysms (The UK Complex AAA Study).
Basic Trial Information
| | | | | | | |
| --- | --- | --- | --- | --- | --- | --- |
| Phase | Type | Status | Age | Sponsor | Protocol IDs | Recruitment |
| | | Open | | The Royal Liverpool and Broadgreen University Hospital | | 232 |
Trial Start Date
09/10/2018
Trial Coordinator
Claire Taylor
Trial Coordinator Email Address
Trial Coordinator Contact No
Frequently Asked Questions
What is the purpose of the study?
Abdominal aortic aneurysm (AAA) is a common condition where the aorta, the largest artery, begins to bulge abnormally. AAAs vary in complexity. Some AAAs are more complex because they are close to the arterial branches to the kidneys. There are different methods of managing such complex aneurysms and doctors are unsure which is best. We intend to study all patients undergoing such aneurysm treatment in England without altering their treatment. We plan to examine the routinely performed scans and utilise data that is routinely collected by the NHS. Available data will be analysed to compare the safety and effectiveness of different treatments, and to see if a particular treatment is better suited for particular features so that patients can be offered bespoke treatment strategies.
What will happen to me if I take part?
All patients undergoing treatment for complex AAA repair will be included. If you are happy for your anonymised data to be included in the study there is actually nothing further required for you to do. You will have your treatment planned as normal and the routinely collected NHS data will be made available to the study team at a later date. No personal or sensitive data will be used in analyses.
Some patients may be asked to take part in the study by completing questionnaires about their Quality of Life. If you agree to take part in this aspect of the study you will be asked to sign a consent form before you receive any questionnaires. The questionnaires take approximately 15 minutes to complete and you will be given a prepaid envelope so you can return it to the trial team. You will receive follow- up questionnaires for up to 5 years.
Do I have to take part?
No. It is up to you to decide whether or not you want to be included in this study.
If you do not want your data to be included with the routinely collected NHS data you can "opt out" by contacting the trial team on Tel: 0151 706 3438 or emailing compass@liverpool.ac.uk
If you agree to take part with the Quality of Life questionnaires you are free to withdraw your consent at any time and without giving a reason.
A decision to opt out or to withdraw consent will not affect the standard of care you receive.